[ad_1]

Morocco is one of those places that never ceases to amaze. A land of contrasts and rich cultures, filled with colorful cities, old Medinas, mysterious Kasbahs, and endless natural beauty. If you are like us and have always dreamed of visiting Morocco, this 10-day itinerary will take you through some of the country's most representatives sites.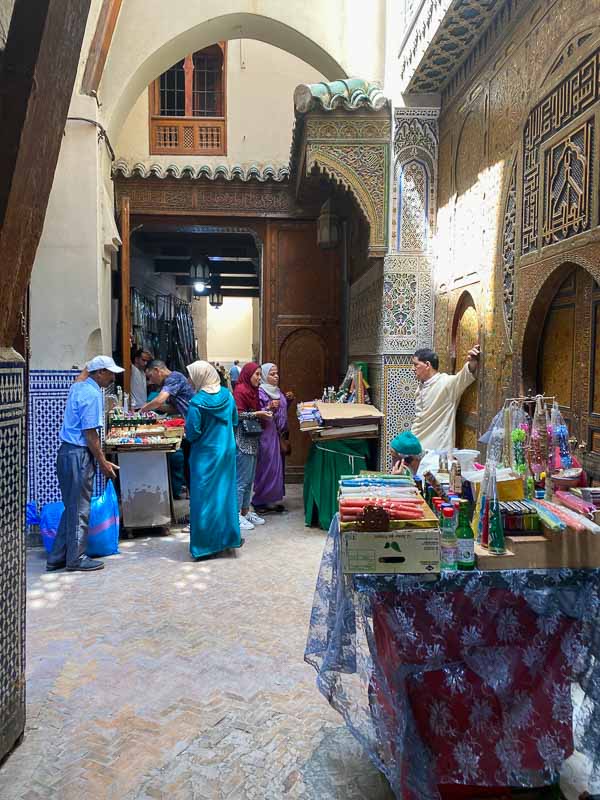 Spanning the northwestern corner of Africa, Morocco is a big and diverse country, so if you have more time you'll have plenty to see and do here. The country's rich culture, exotic cities and and dramatic landscapes offer numerous opportunities for explorations. But most people have limited vacation time. Therefore in this post I'll tell you what we were able to see on a 10 day trip to Morocco.
Planning Your Trip to Morocco
Planning a trip to Morocco requires a lot of decision making. Besides creating an itinerary, you'll have to decide when to go, where to stay and how to get around. There are many things you need to know before visiting this complex country, which is why I encourage you to read my detailed guide about visiting Morocco.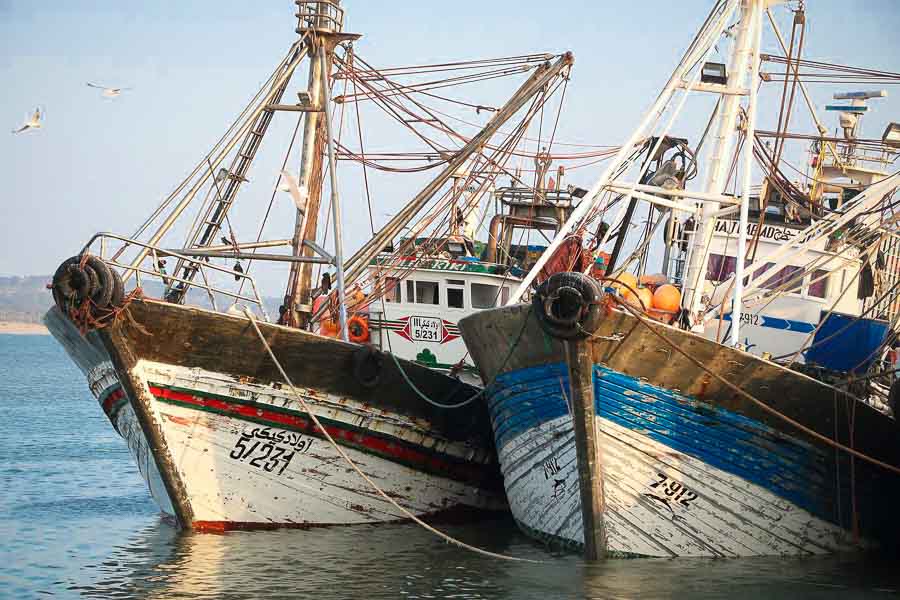 Should You Visit Independently or with a Tour Company?
If you want to visit Morocco independently you do so by using public transportation or renting a car. Unfortunately, both these alternatives have more cons than pros, which I discuss in more details in my Morocco travel guide.
But there is also a third alternative. You can do all the planning yourself (including the itinerary) and hire a car with a private driver. After a lot of research, we decided that hiring a private driver is the safest and most efficient way to travel through Morocco.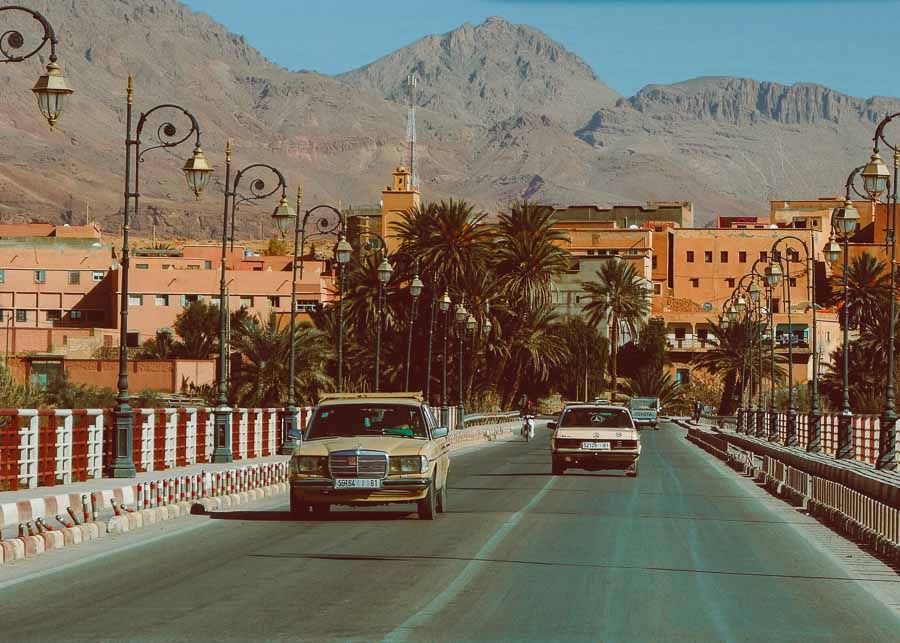 Although it's certainly more expensive than public transportation, hiring a car with a private driver doesn't cost as much as you might think. Not to mention the fact that it will give you a better experience and save you a lot of hassle.
There are many companies in Morocco that offer this option. They also have fully planned tours that include hotel bookings and women only tours. You may choose different routes and a different number of days for your Morocco tour. However, we prefer to do our own planning, so we just hired the car with a driver.
About This 10-Day Morocco Itinerary
Our trip to Morocco was actually 12 days, but we only had 10 days for this road trip. The other two days were the days of our arrival and departure when we didn't have much time for sightseeing.
With this itinerary you'll be able to explore Morocco from south to north. We started on the coast of the Atlantic in the south, went through the Sahara Desert, Atlas and Riff Mountains, and finished the trip at the Straight of Gibraltar, in northern Morocco. Along the way we visited the cities of Marrakech, Essaouira, Merzouga, Ouarzazate, Fés, Chefchaouen, Tangier and some other smaller places around them.
This itinerary will take you to all three geographic regions of Morocco: the Atlantic coastal lowlands; the rugged Atlas Mountains and fertile valleys around them; and the arid area of southern Morocco where the mountains descend into the Sahara Desert. You'll also be able to visit some of Morocco's most important cities, old kasbahs, and desert towns.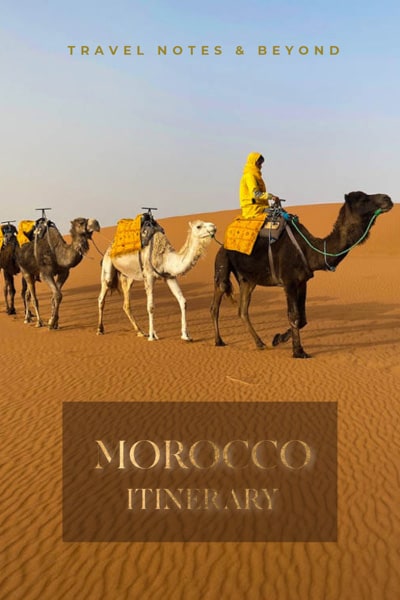 itinerary overview
• Day 1 : Marrakech: Medina souks, Bahia Palace, Madrasa Ben Youssef (Overnight in Marrakech)
• Day 2: Marrakech: Jardin Majorelle, El Badi Palace, Saadian Tombs, (Overnight in Marrakech)
• Day 3: Day Trip to Essaouira (Overnight in Marrakech)
• Day 4: Tizi n'Tichka Pass over High Atlas, Aït Ben Haddou & Telouet Kasbah (Overnight in Ouarzazate)
• Day 5: Middle Atlas Todra Gorge, Erfoud, Merzouga & Sahara Desert (Overnight in a Desert Camp)
• Day 6: Fés: Explore the souks in Fés el Bali, Al-Attarine Madrasa, Tanneries (Overnight in Fés)
• Day 7: Fés: Merenid Tombs, Ibn Danan Synagogue, Wooden Crafts Museum (Overnight in Fés)
• Day 8: Day trip to Meknes & the Roman ruins of Volubilis (Overnight in Fés)
• Day 9: Chefchaouen: walk around the narrow lanes of the Blue City (Overnight in Chefchaouen)
• Day 10: Tangier: Old Medina, Hercules' Cave, Cap Spartel, Tangier Beach (Overnight in Tangier)

Morocco Itinerary – Best Places to Visit in 10 Days
If you are traveling to Morocco from the United States you'll land either in Marrakesh or in Casablanca, which has the country's largest airport. Casablanca is an urban sprawl, much like Los Angeles, but of less tourist interest. Since we only had 10 days in Morocco we left Casablanca out of our itinerary and decided to start our tour in Marrakech and end it in Tangier, from where we crossed the Strait of Gibraltar into Spain.
Day 1 Morocco Itinerary: Marrakech (Medina souks, Bahia Palace, Madrasa Ben Youssef)
Marrakech is undoubtedly one of the most visited cities in Morocco. It is filled with luxurious riads, impressive palaces, 5-star restaurants, and exotic gardens.
Founded in the mid 11th century, Marrakech is the first of Morocco's four imperial cities and a major economic center. Because of its pink-tinted buildings, Marrakesh is also known as the "Red City."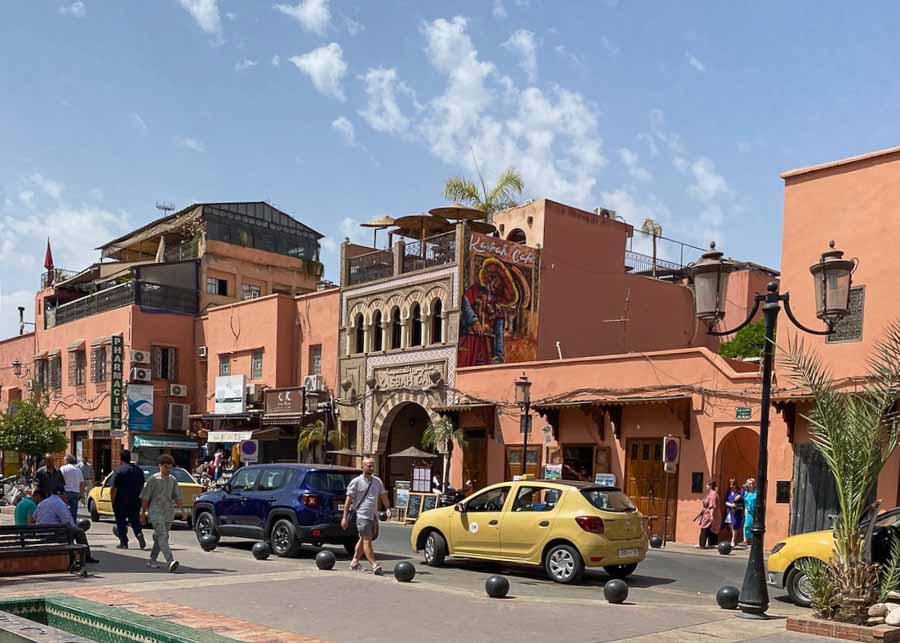 The real attraction of Marrakesh is the Medina, the oldest part of the city, dating back to the 11th century. In the heart of the Medina is the bustling Jemaa el-Fna square and the souks – a huge maze of colorful alleyways with different sections.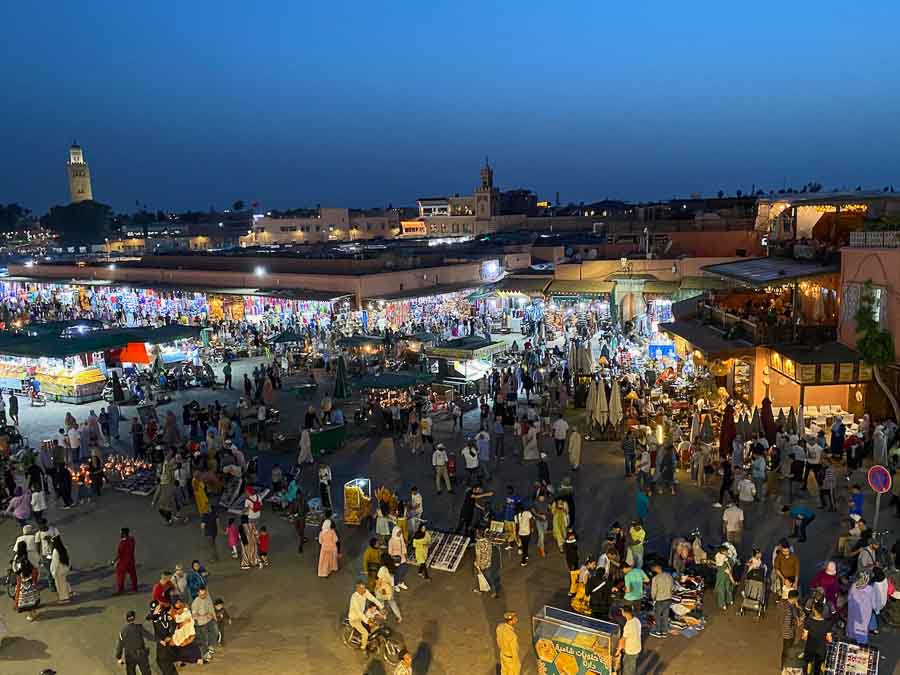 You could spend hours and even days strolling through the narrow, winding alleys filled with food, drink, jewelry, clothing, rugs, leather, art, and everything in-between. And although it's impossible not to get lost in here at some point, you'll love it! But unfortunately, you won't be able to wander everywhere if you only have 2 or 3 days in Marrakech.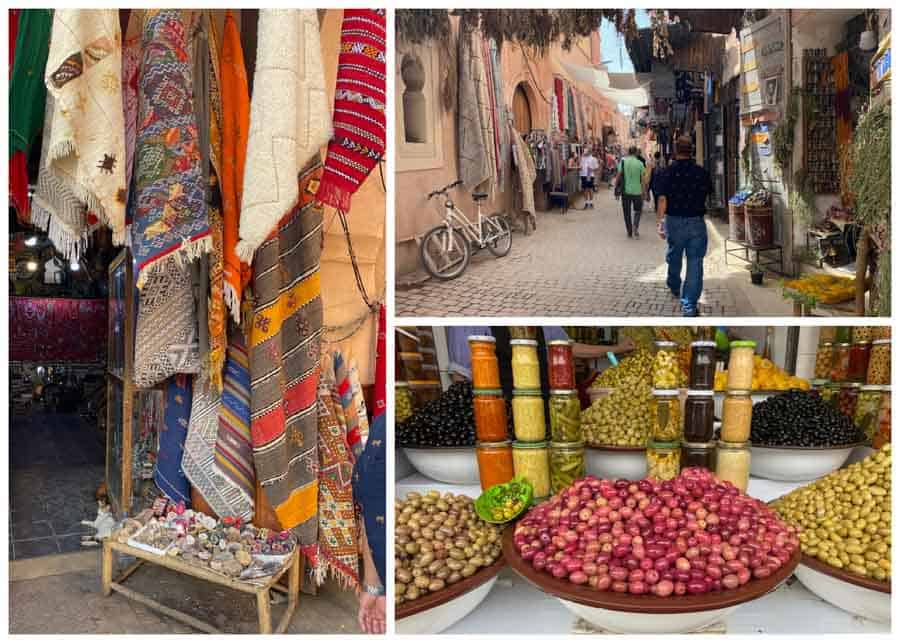 It's tempting to spend all your day strolling the souks of the Medina, but the attractions of Marrakesh go far beyond the markets. Also within the walls of the old city you'll find the largest Islamic college in Morocco – Madrasa Ben Youssef, the stunning Bahia Palace, the Secret Garden and Koutoubia Mosque. Although you can't get inside the mosque, it's worth taking a stroll around it.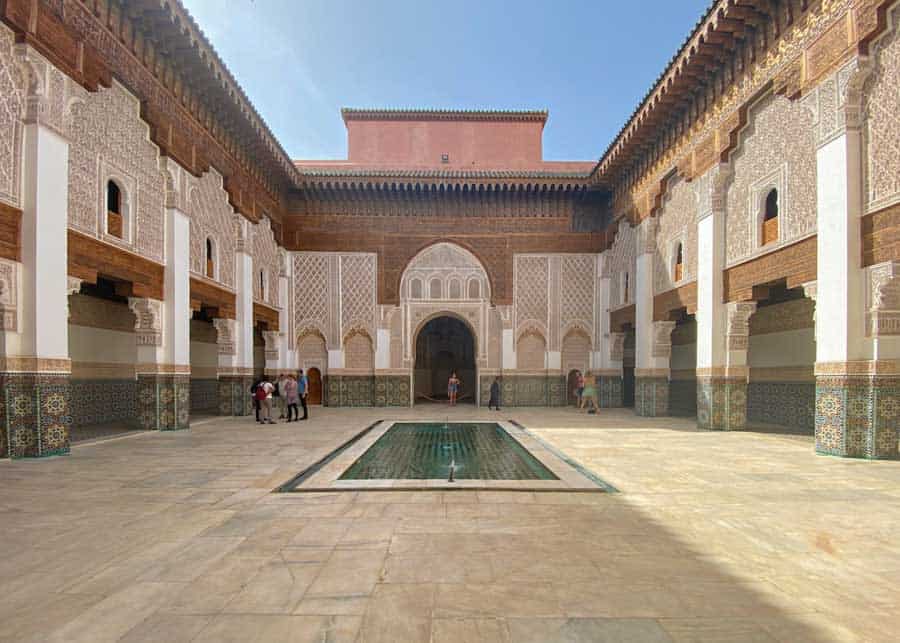 Day 2 Itinerary: Marrakech (Jardin Majorelle, El Badi Palace, Saadian Tombs)
Along the northern edge of the Jewish Quarter you can visit the ruins of El Badi Palace and the Saadian Tombs.
One important attraction to visit in this part of the city is the Majorelle Garden, founded in the 1920s by French artist Jacques Majorelle. This lovely oasis in the new town has a wide variety of plants from all over the world.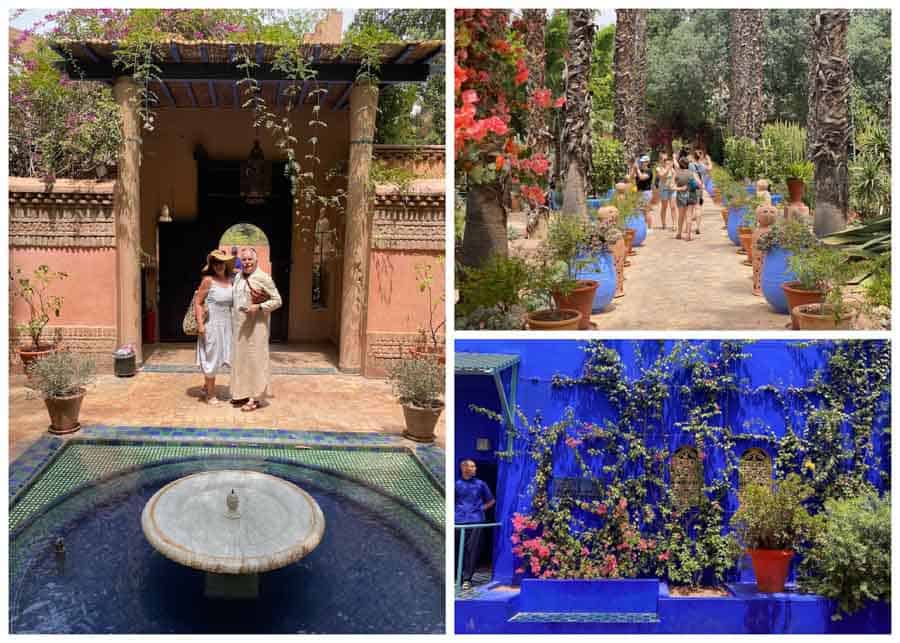 The colorful display and the relaxing atmosphere are very reminiscent of the famous Huntington Garden in Pasadena, California.
Day 3 Itinerary: Trip to Essaouira
One of the most popular day trips from Marrakech is the port city of Essaouira, located on the coast of the Atlantic, in the western part of Morocco. We loved this atmospheric town with a lively harbor, colorful bazaars, art galleries, and tiny restaurants! The laid-back hippy vibe of Essaouira is so different from the hectic Marrakech.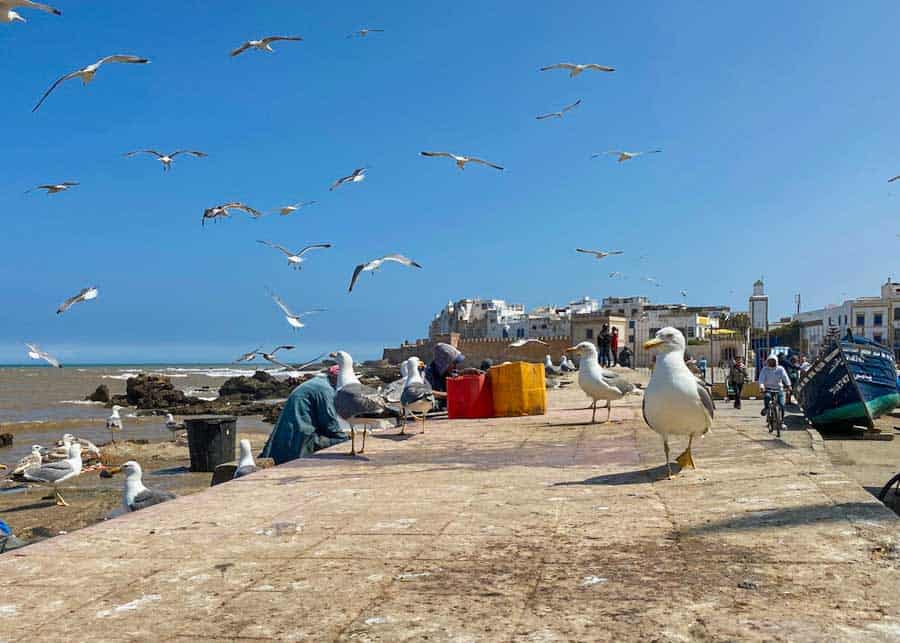 The journey itself is a pure delight. Along the way you can stop to visit a local women's cooperative and learn how the "liquid gold of Morocco"(Argan Oil)is made. Upon approaching Essaouira, the road passes through an Argan tree forest where you'll spot goats climbing the trees. You can stop to take some photos here before continuing to Essaouira.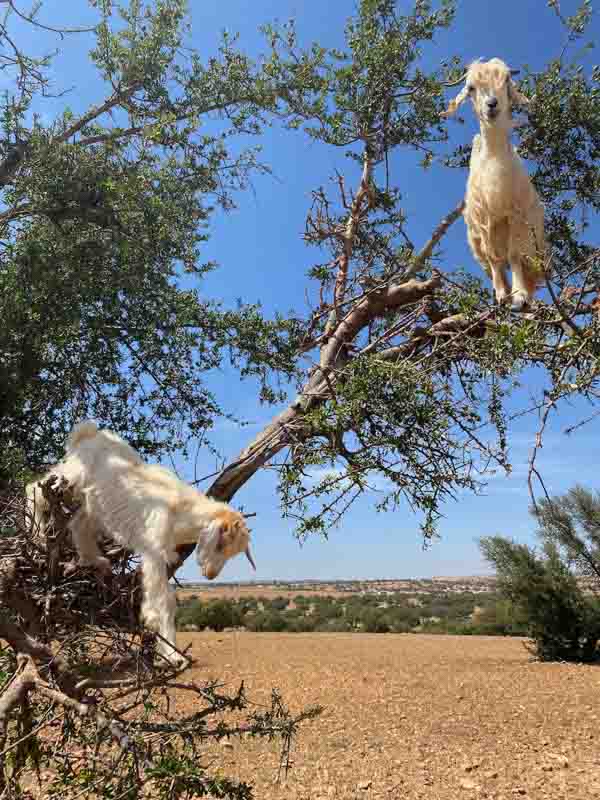 Unlike other cities in Morocco, we found Essaouira very easy to explore on your own. The Medina is pretty small and the locals are friendly, so you don't need a guide.
Day 4 Itinerary: Visit Telouet Kasbah, Ait Ben Haddou, & Ouarzazate
The 4th day of our Morocco itinerary started with a 3.5 hour drive towards Ouarzazate. For nearly 200 kilometers we drove across the High Atlas Mountains through the Tizi n'Tichka pass. Reaching an altitude of 7,257 feet above the sea level, Tizi n'Tichka is the highest mountain pass in North Africa.
This dizzying road crosses the most beautiful part of the High Atlas. The scenery and colors change on every turn revealing tall mountain peaks, surprising waterfalls and small villages tucked away in green valleys.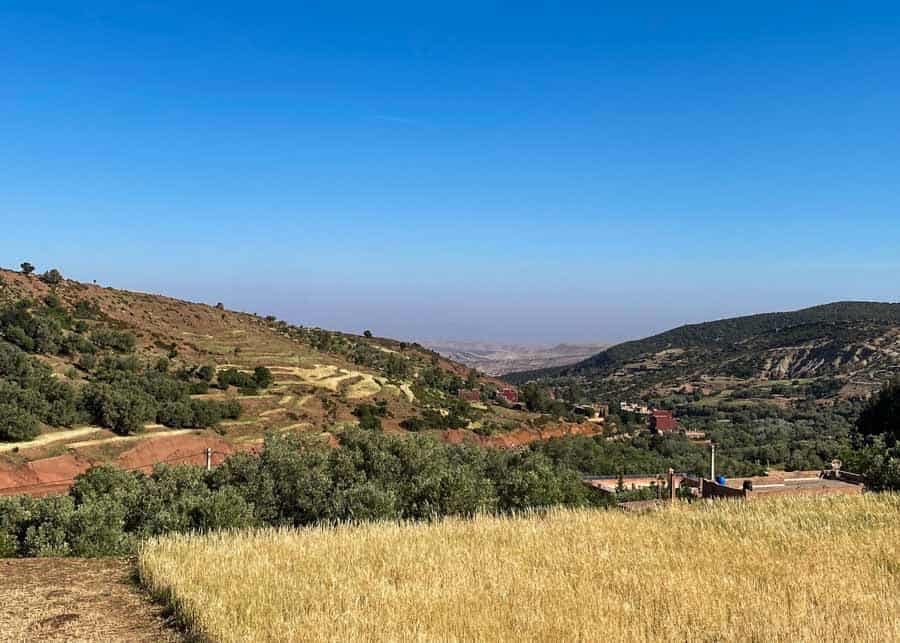 Although it's a modern highway, Tizi n'Tichka is a challenging mountain road, similar to the Transfagarasan Highway, in Romania. I'm not sure how many fatalities take place here every year, but I can tell you it's a dramatic and hair-raising drive, with many hairpin turns and crazy people driving on it. If you are not a very experienced driver, you shouldn't attempt it on your own.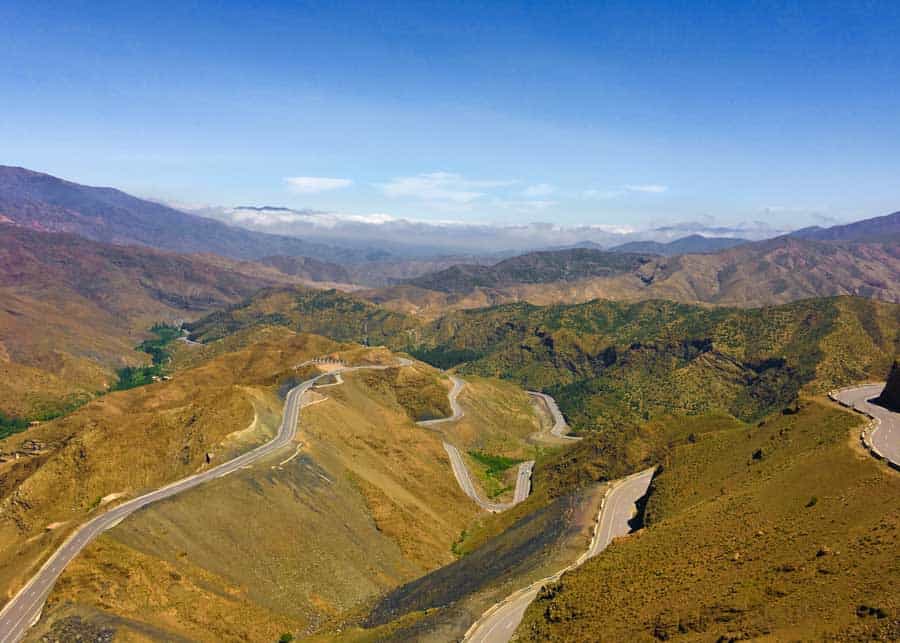 Telouet Kazbah
After driving through the steep and narrow mountain roads, we have been rewarded by the amazing site of the Telouet Kasbah. Kasbah is the Arabic name of a fortress, or citadel in North Africa. Although the walls are obviously deteriorating from the elements, this is still one of the most beautiful examples of small villages in the High Atlas.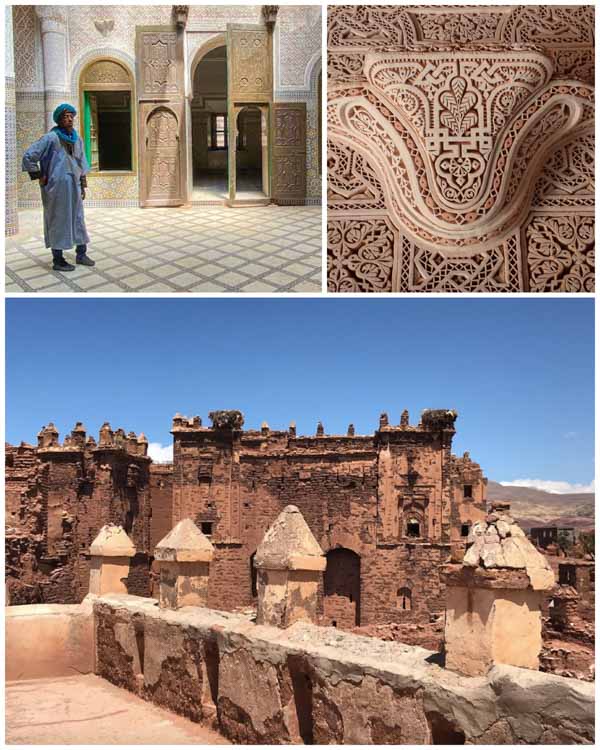 Unfortunately, many of Morocco's visitors don't know about this beautiful Kasbah and fail to add it to their itinerary. Except for a couple of locals, we didn't encounter any people here during our visit.
Aït Ben Haddou
Although it's a very impressive site, Aït Ben Haddou doesn't seem as enchanting as Telouet. As you wander through the passageways to the pinnacle, you'll notice a lot of vendors who display their colorful crafts on almost every inch of the road. That makes it look very commercial and less authentic. Nonetheless, Aït Ben Haddou is a UNESCO World Heritage site that you should visit if you are out that way.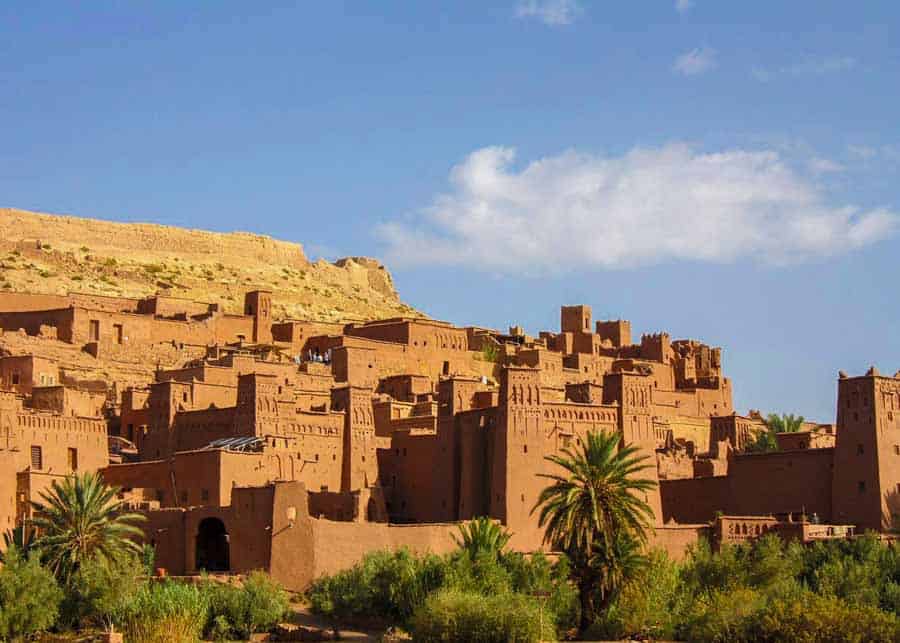 This massive, fortified village was built from clay in the 1600s. But the site's importance as a vital stop along the trade route from the Sahara Desert to Marrakech goes back to the 1000s.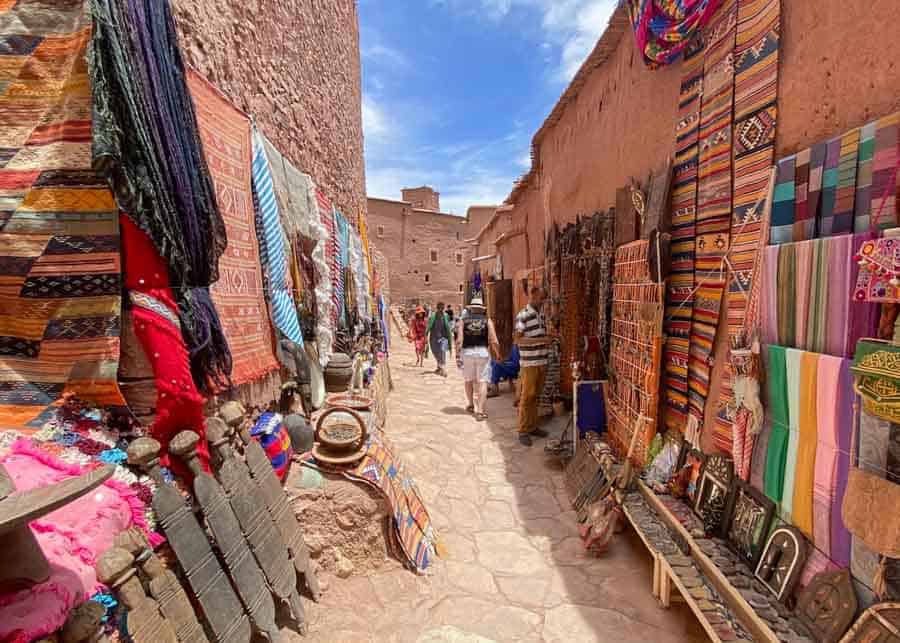 Because of its exotic location, Aït Ben Haddou was the filming location of many Hollywood movies like Lawrence of Arabia, Gladiator, and The Mummy.
Ouarzazate
You might recognize Ouarzazate even if you've never been here. Countless movie and television scenes have been filmed in its walled village.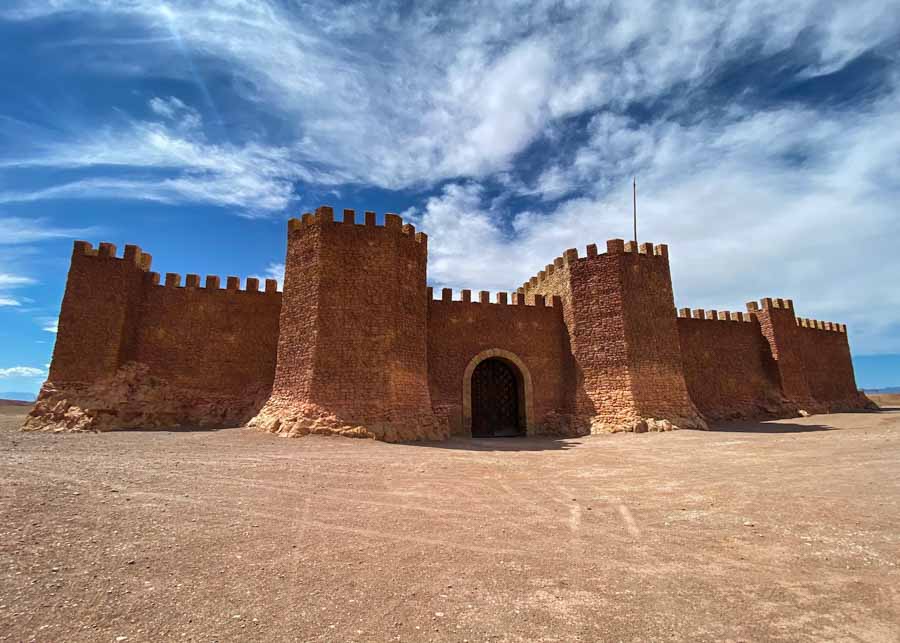 As a result, the visitors' interest for Ouarzazate revolves around the two movie studios. There is CLA Studios in the centre of Ouarzazate and the Atlas Studios located a few kilometers away, which is the largest studio in the world.
Day 5 Morocco Itinerary: Visit Todra Gorge, Erfoud, Merzouga, & Erg Chebbi Desert 
The 5th day of our Morocco itinerary was perhaps the most tiring of the 10 days we've spent on the road. We spent most of it on the road driving across the Middle Atlas mountains, from Ouarzazate to the Sahara Desert. Along the way we stopped at some very interesting places.
Todra Gorge
The first stop was at Todra Gorge, a deep cliff-sided limestone canyon on the east side of the High Atlas Mountains. The towering cliffs that drop straight down are absolutely spectacular, but we didn't have much time here. We only stopped for half an hour to walk around and take some pictures.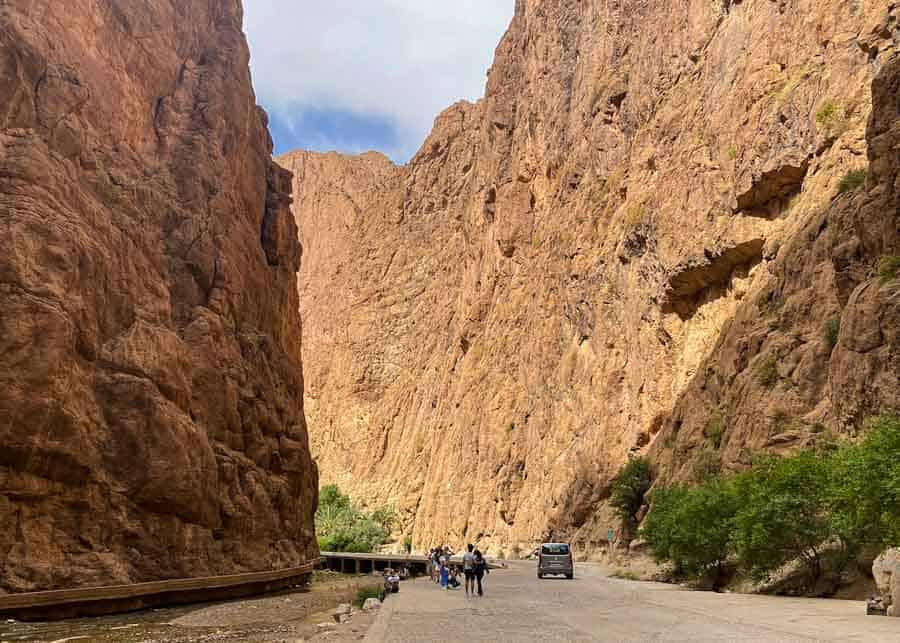 The Macro Fossil Kasbah in Erfoud
One of the most interesting places we visited on this 10 day itinerary was the Macro Fossil Kasbah in Erfoud – a small town in eastern Morocco. We weren't particularly excited to stop at a fossil shop when our driver suggested to stop here. But I'm glad we did. This turned out to be a very educational tour.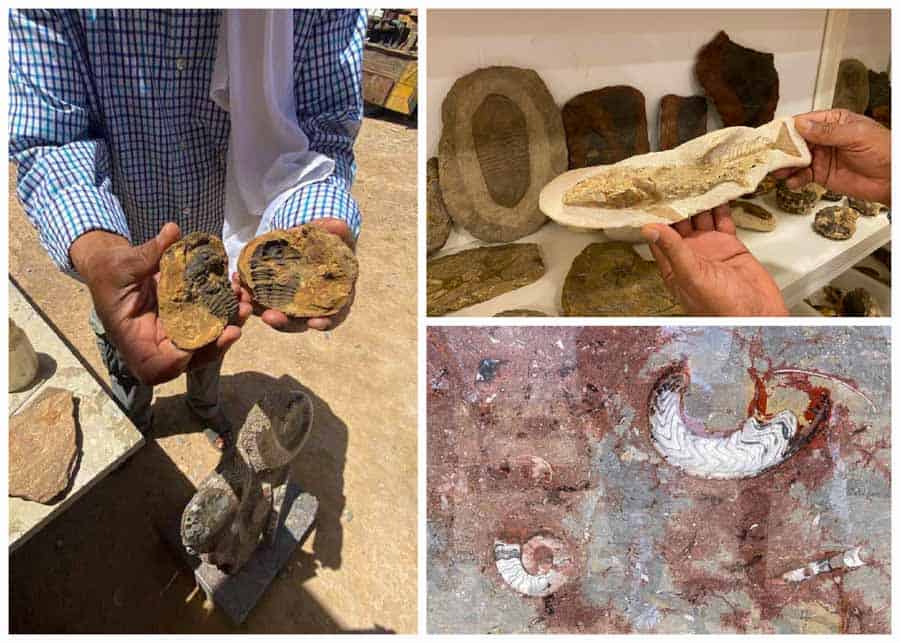 The owner treated the facility more like a museum, lecturing us on the geology and history of the area. He provided a lot of information about the formation of the various fossils and how the final products were manufactured. 
Merzouga
After visiting the quarry, we stopped in Merzouga for a taste of Gnawa music and local hospitality. Our driver took us to Dar Gnaoua Bambara – a local Music House where they perform this type of music. Gnawa music is a mixture of African, Berber, and Arabic religious songs and rhythms.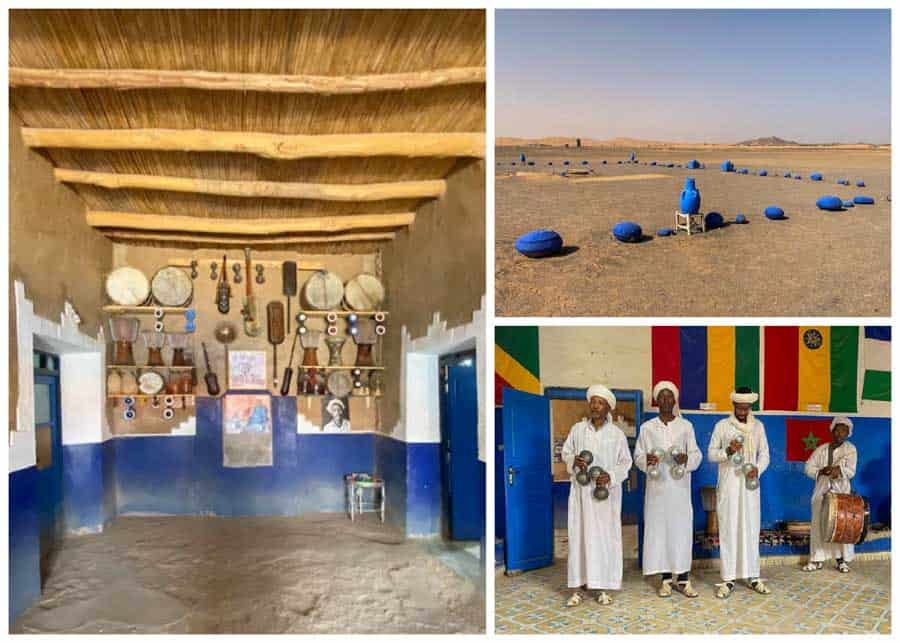 Merzouga is an interesting village on the edge of the Erg Chebbi desert from where the camel caravans depart for the sand dunes.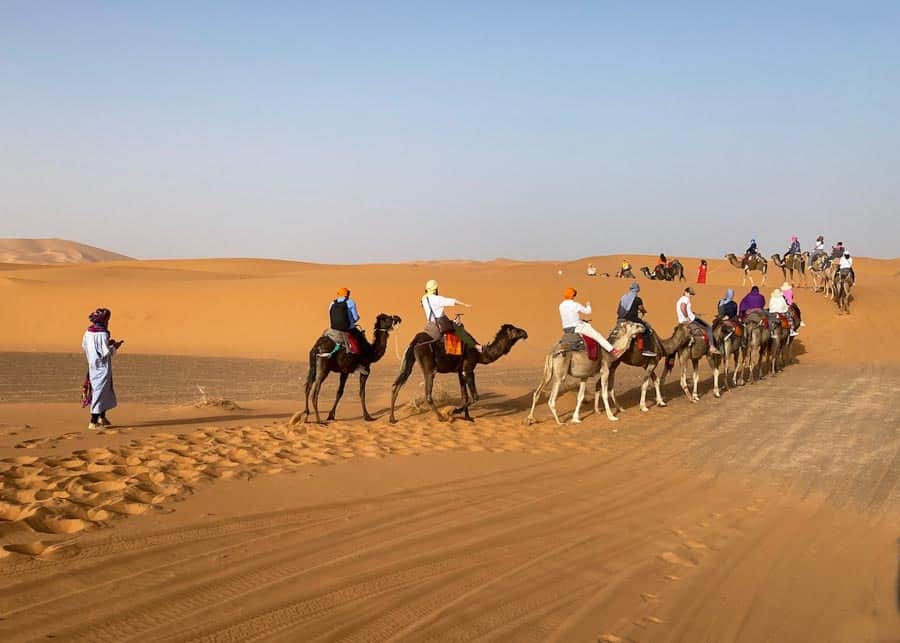 After the performance, we headed to the Erg Chebbi desert where we planned to watch the sunset and spend the night.
Erg Chebbi Desert
Lying at the edge of the Sahara Desert, Erg Chebbi is a huge expanse of dunes formed by wind-blown sand. Its stunning golden-orange dunes were used as a filming location for many movies.
When planning our Morocco itinerary, one of my dreams was to ride a camel through the dunes of the Erg Chebbi with a scarf wrapped around my face.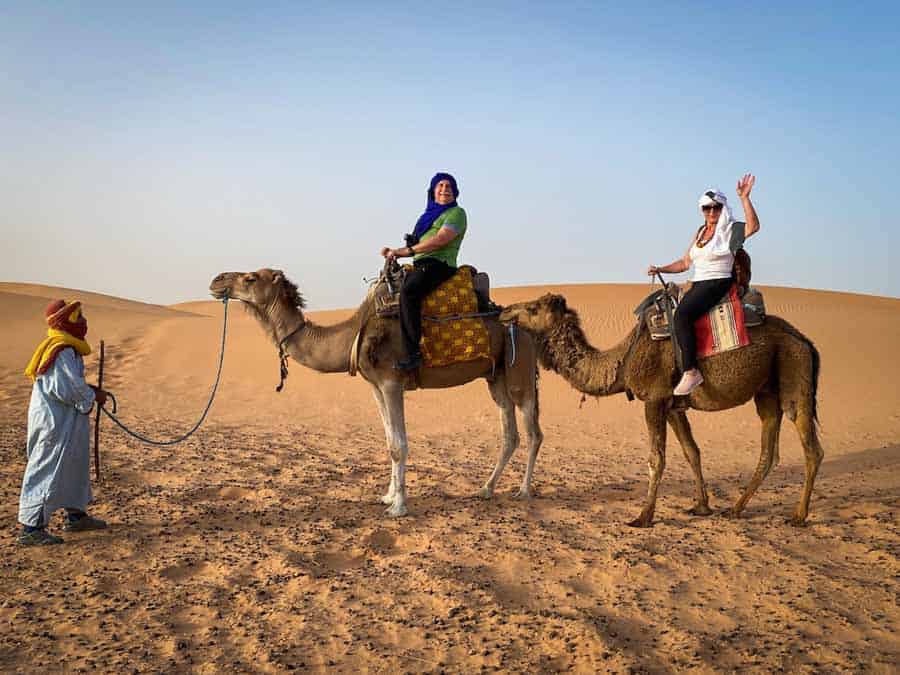 But riding a camel in the intense, damp heat of the Erg Chebbi is not as much fun as you may think. That image of the Sahara pristine dunes began to dissipate when my wobbly camel started bouncing up and down.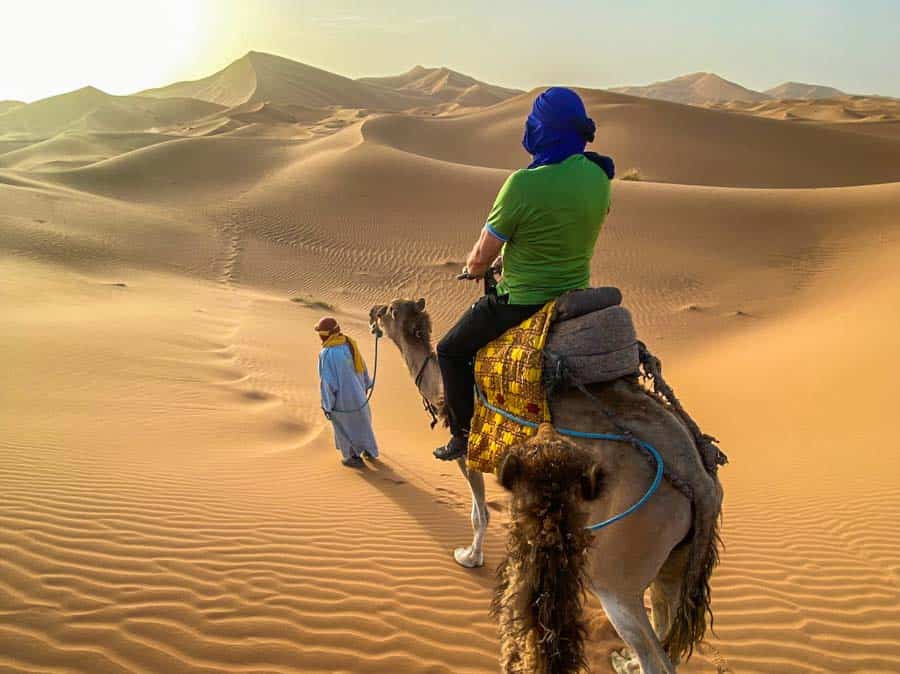 Luckily, we booked a private camel ride, so I could turn around whenever I wanted without ruining everybody else's experience. Other than my husband's, of course!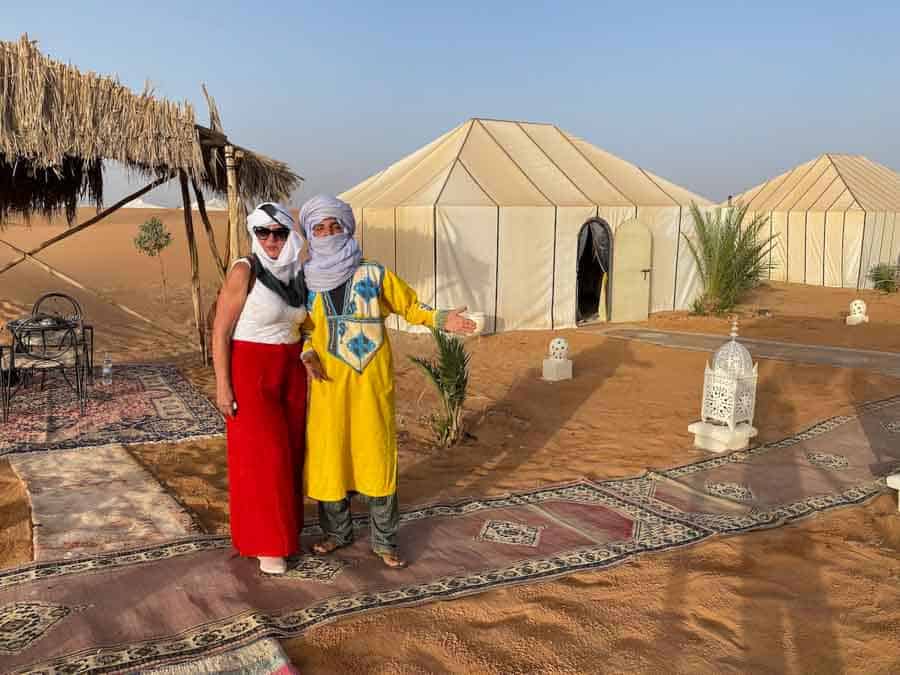 But if the camel ride didn't really work for me, the idilic setting of the desert camp and the candle-light dinner, did.
Days 6 Itinerary: Fés (Medina, Al-Attarine Madrasa, Choura Tannery, Wooden Crafts Museum)
Fés is one of Morocco's four imperial cities, a fascinating destination for those who dare venture out into its bustling and maze-like Medina. The city is truly overwhelming and quite spread out. Without a local guide, there are very slim chances NOT to get lost here.
On our fist day we headed straight for the ancient Fes el Bali Medina and the many attractions found in this area. This is the very oldest part of the city, dating from the 8th-9th centuries. In 1981 the Medina in Fés was designated a UNESCO World Heritage site for its architectural and cultural heritage.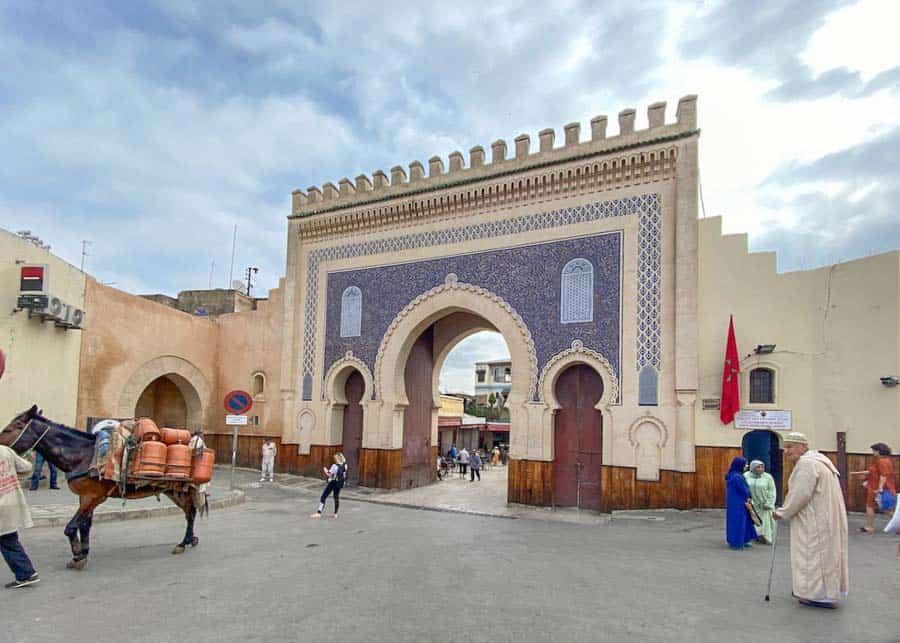 We've spent the whole day wandering around the narrow streets of the Medina. We stopped at Bab Bou Jeloud gate (the Blue Gate), one of the main entrances of the Medina, the Al-Attarine Madrasa, a historic school.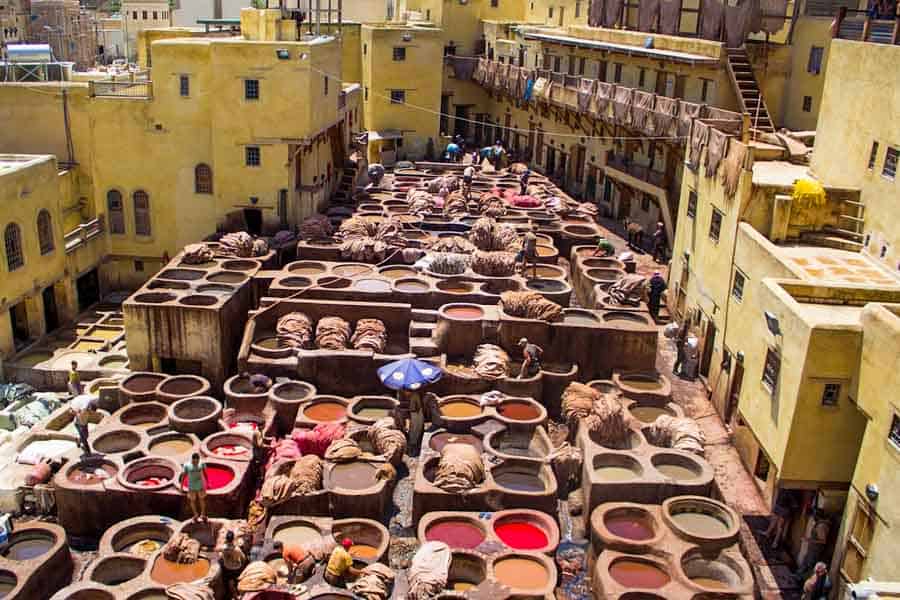 One of the old city's most iconic sites is the Chouara Tannery. Here you can watch the ancient craft of tanning and dyeing, which hasn't changed in ages in Fés. Cow urine and pigeon poop are still the key components of the process, so the smell is unbearable sometimes.
In the afternoon we visited the Museum of Wooden Arts & Crafts. The museum is housed in a former caravanserai –a roadside inn used by caravans – which is a piece of art in itself.
Day 7 Itinerary: Fés (Ibn Danan Synagogue, Borj Nord Fort, Marinid Tombs)
On the second day in Fés we visited Mellah district, Fés's old Jewish Quarter, dating back to the 14th century. At one time, a Jewish community of over 250,000 called this part of town home. Within the district of Mellah you'll find the Ibn Danan Synagogue, built back in the 17th century.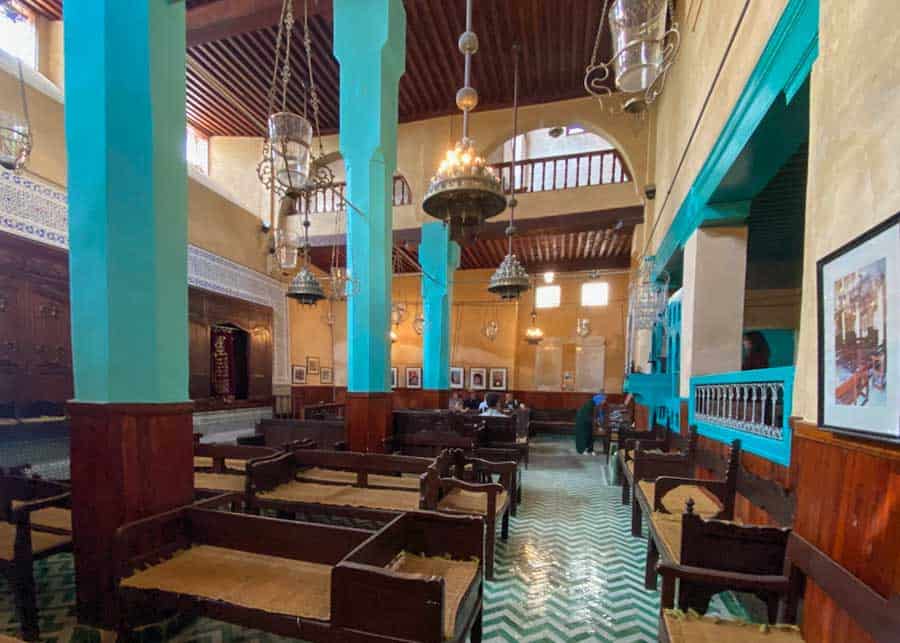 In the afternoon we headed for the hills outside the historic center. From up here you have a superb view of Fés, which in itself will make the trip worthwhile. We first stopped at the Borj Nord fort, a large defensive structure built by Sultan Ahmad al-Mansur, then visited a traditional ceramic workshop.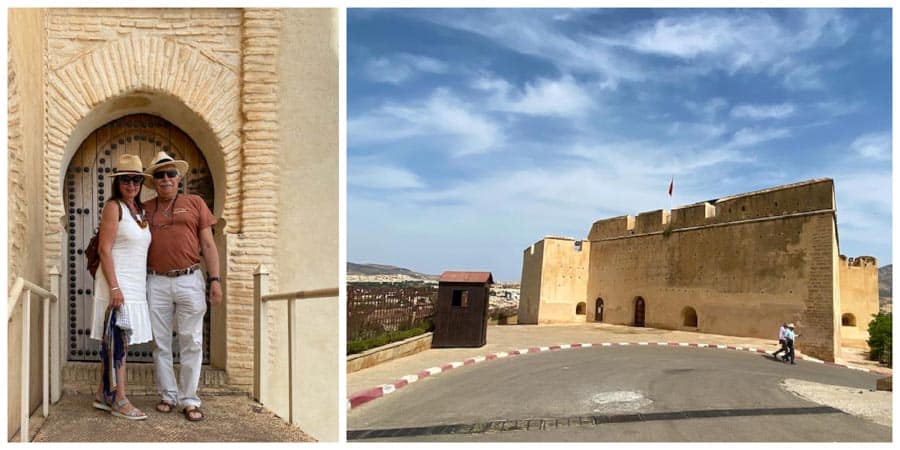 Also up on al-Qula hill we visited the Marinid Tombs. These ruined tombs were originally a royal necropolis for the Marinid Dynasty which ruled over Morocco between the 13th to 15th centuries. Although not much is left of these tombs, they are still a monumental site worth visiting.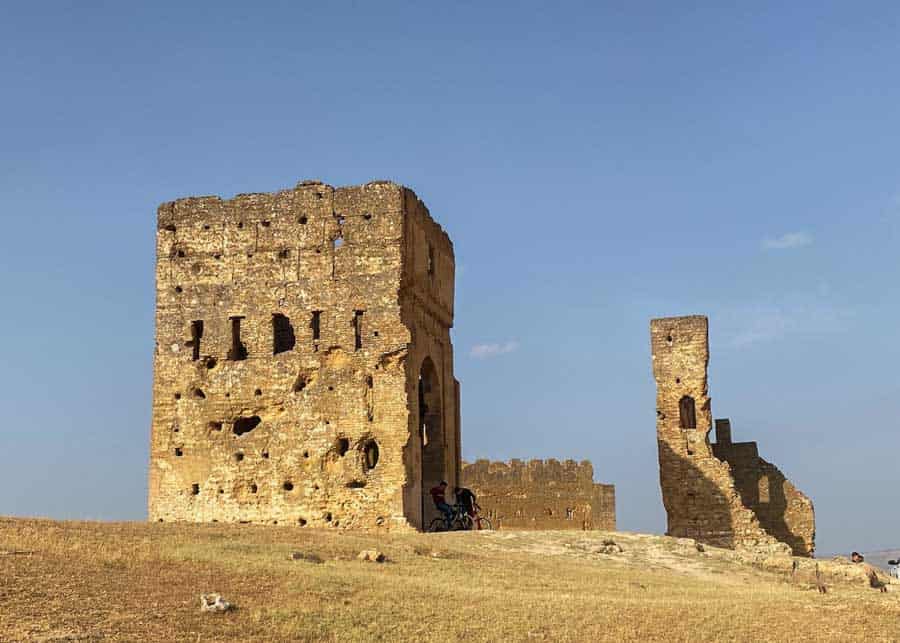 Day 8 Itinerary: Visit Meknes & Volubilis
Just about an hour away from Fés you'll find the archeological site of Volubilis. I must confess that I never expected to find ancient Roman ruins in Morocco, but I should have. After all, the Romans were everywhere. From the Valley of the Temples and  Syracusa in Sicily, to the hills of Acropolis in Greece and the columns of Persepolis in Iran, traces of their civilization are still present today.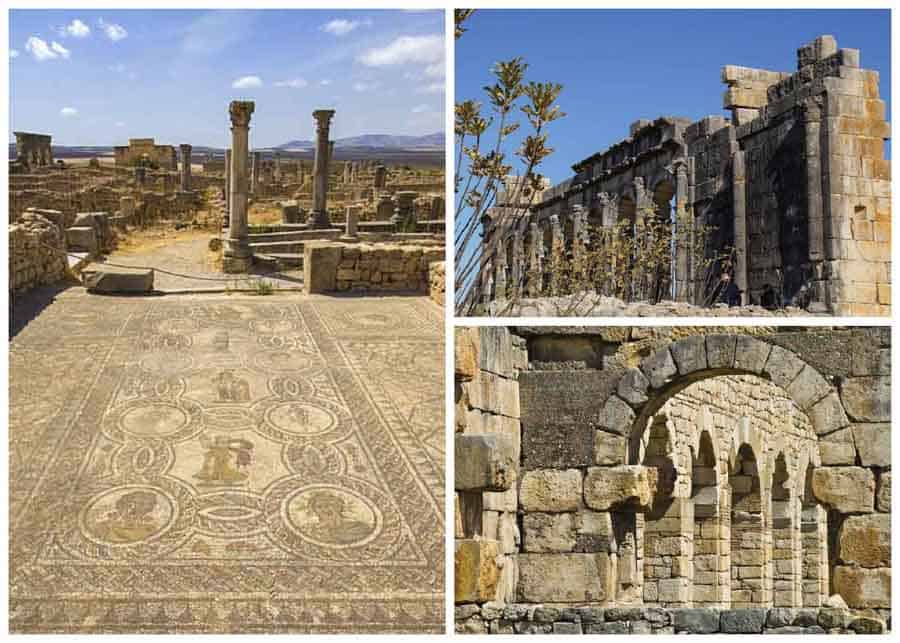 It is amazing how well preserved Volubilis is, considering that it dates back to the 3rd century BC. You can still see some buildings, public places, triumphal arches, baths and amazing mosaic tile works. In its heyday, Volubilis was home to 20,000 residents. 
Meknes is one of the four imperial cities of Morocco and remnants of its glorious past are still visible today. The most recognizable of them is the enormous Bab El Mansour Gate, which was the city's entrance for almost 300 years.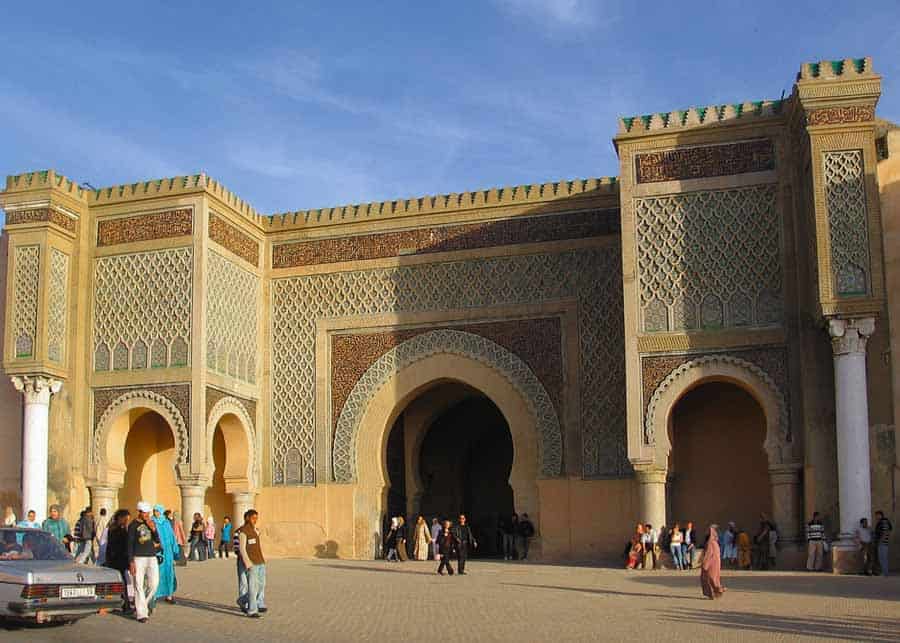 In all honesty, there is not much to see in Meknes other than the Mausoleum of Moulay Ismail –Morocco's Warrior King– and the Royal Stables, which were closed at the time of our visit. However, since it's not far from Volubilis, it's worth the short detour.
Day 9 Itinerary: Visit Chefchaouen
Chefchaouen makes you feel like you are wandering through a dream! Of all the places on our road trip itinerary, Morocco's Blue City (as it is also known) was by far the most enchanting one. Long before coming to Morocco I was well aware of its incredible shades of blue, so no wonder Chefchaouen was at the top of places to visit.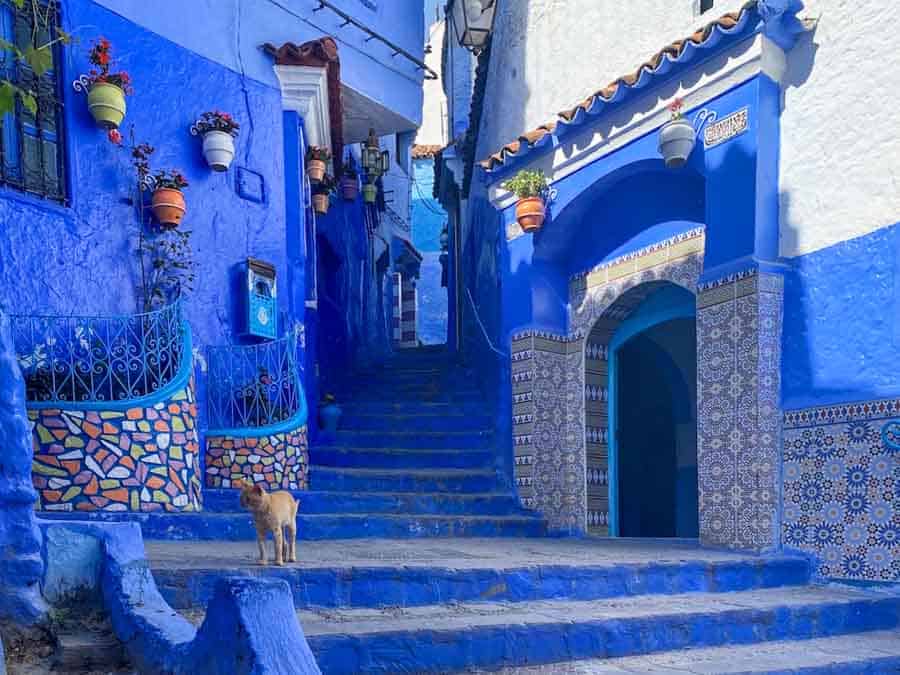 There is not really a "list of attractions" in this city because the city itself is the attraction. We just wandered around, hiked up and down, and got lost on purpose in its maze of blue alleys. That's the best way to discover the hidden corners of this town and feel the pulse of the daily life.
And if you get tired of the crowds and still have some energy left, you can climb up the hill adjacent to the city to visit the Spanish Mosque. From up there you'll have a beautiful perspective of the blue shades of Chefchaouen.
Day 10 Morocco Itinerary: Visit Tangier
Our 10 day itinerary in Morocco ended in Tangier, a Moroccan port on the Strait of Gibraltar. At first glance, Tangier looks more European than Moroccan. But that shouldn't come as a surprise. From 1923 to 1956, Tangier was legally designated as an International Zone ruled by eight Western countries. The city was de facto under the control of foreign consuls, which is why most Moroccans still consider it as a place apart.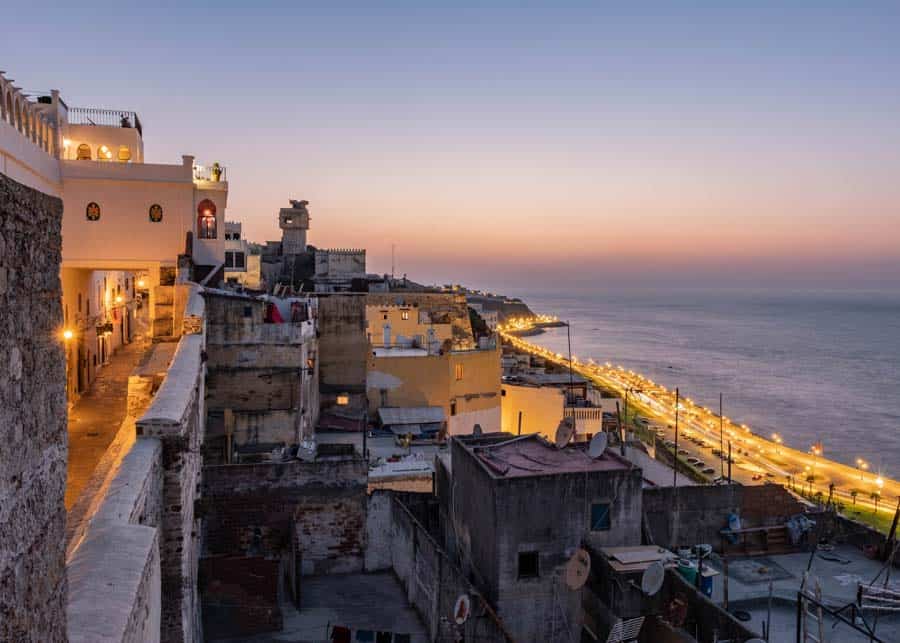 Because of its international status many people of different ethnicities immigrated to Tangier. So in addition to native Arabs, Berbers, and Jews, you'll encounter many European nationalities in Tangier and even Americans.
There is not a lot to see in Tangier, despite being a big city. We skipped the walled Medina which looks pretty much like any other medina in Morocco. Instead we headed to a couple of landmarks that are just a short drive from the city.
Cap Spartel
Cap Spartel was built in 1864 by Sultan Muhammad III and is located at the entrance to the Strait of Gibraltar, about 1,000 feet above sea level. This is considered a very special spot because it's the place where the Atlantic Ocean meets the Mediterranean Sea.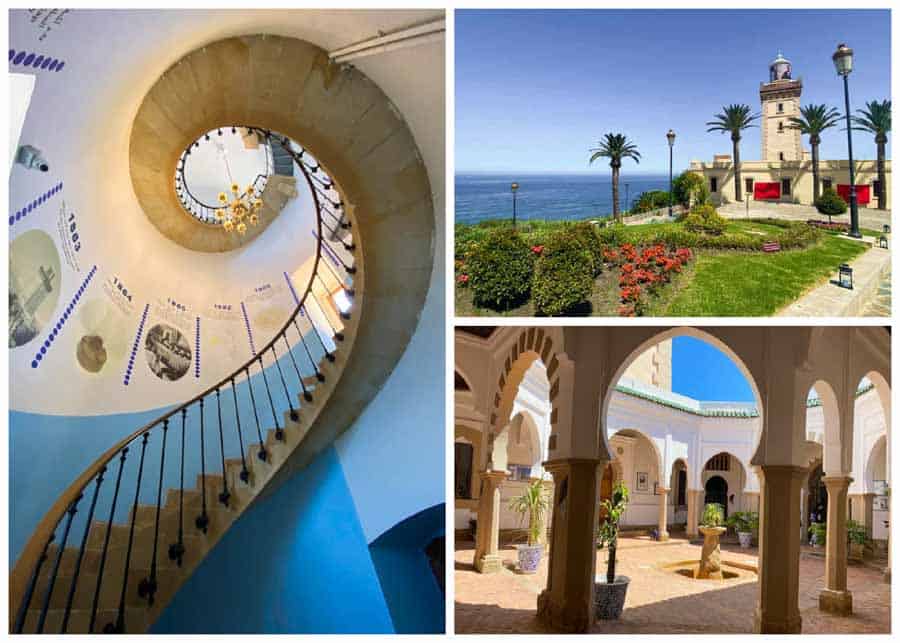 The main attraction here is a lighthouse that is surrounded by a beautiful park. There are places to eat and drink, places to walk and enjoy the ocean view. 
The Caves of Hercules
Just a little further down from Cap Spartel you'll find the Caves of Hercules, Tangier's most popular attraction. According to the legend, the famous hero Hercules slept in these caves on his way to steal apples from the Garden of the Hesperides.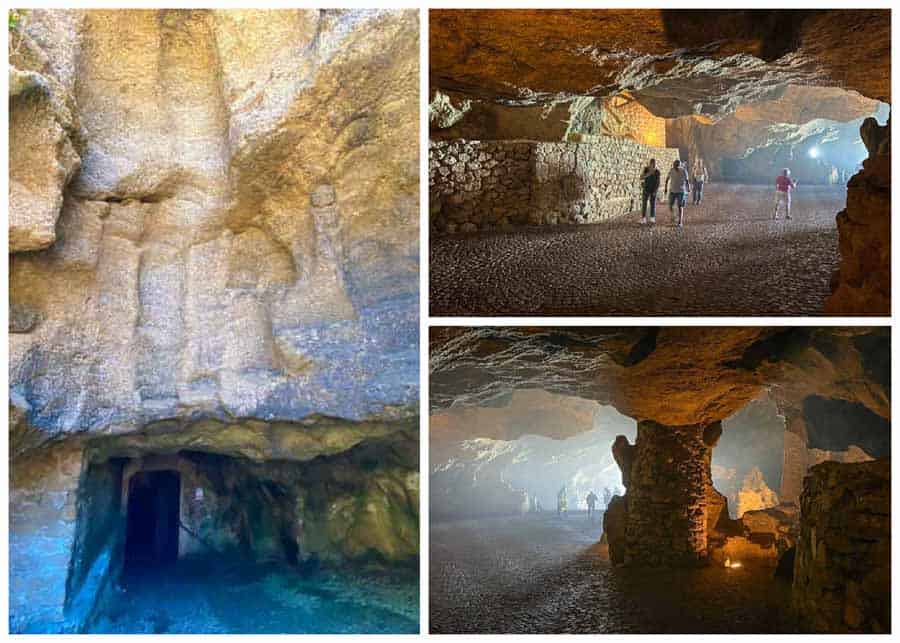 You can actually walk down into the caves and see the fascinating rock formations inside.
There's no way you can skip exploring Tangier's waterfront. We ended our road trip through Morocco with a walk along the shore. In the evening we had a delicious dinner at one of the waterfront restaurants.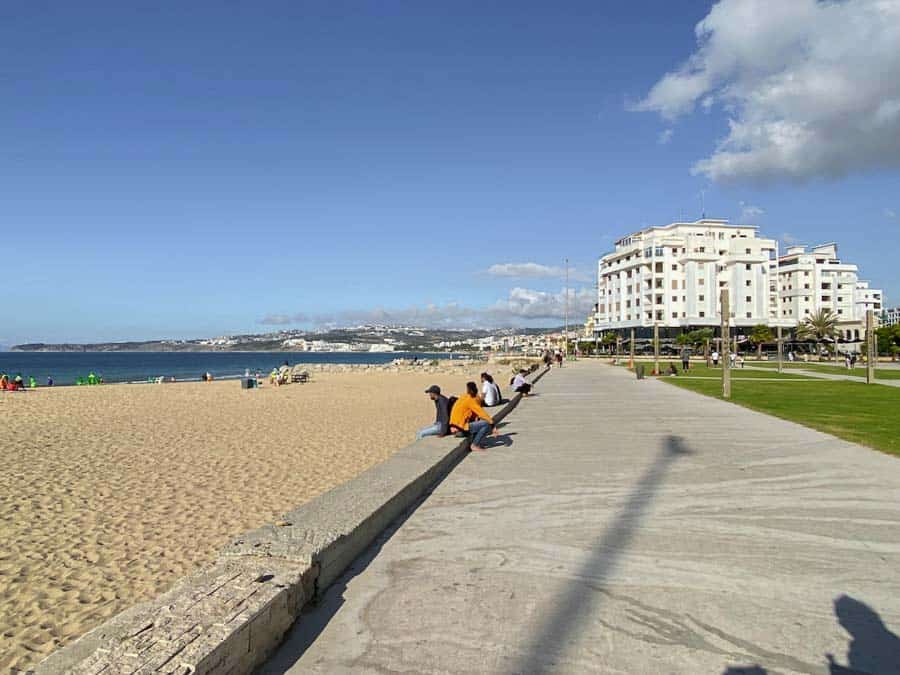 If you found this 10 da itinerary helpful, please pin it to help others discover the beauty of Morocco.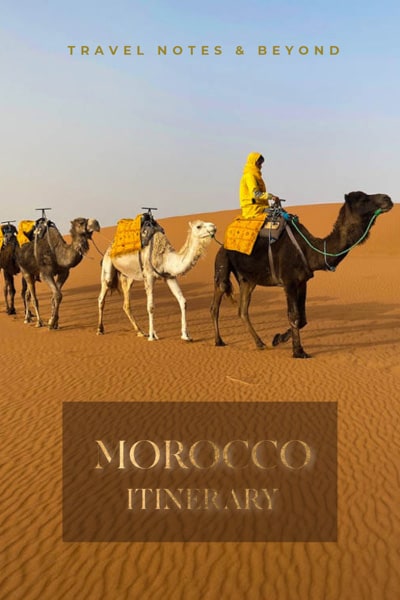 LOOKING FOR OTHER EXOTIC DESTINATIONS? YOU MAY ALSO LIKE THESE:
[ad_2]

Source link